Naqsh-e-Jahan Square among the Top 10 Public Squares of the World (by landarchs.com)
One of the world's most beautiful squares, with a wonderful area of luscious green in the middle. Lined with shops, filled with cafes, with the great Shah Mosque to the north this square will leave you breathless. Its other name Naqah-e Jahan Square means 'Image of the World Square'.
This square is from the period of Shah Abbas I, and has a length of 500 m. from north to south, and its width being approximately 165 m. Surrounding this vicinity are the Abbasi Mosque and Sheikh Lotf Ol-lah Mosque, the Qaisarieh portal and the Ali Qapoo Edifice. During the reign of Shah Abbas I and his successors, this square was an area where festivities, polo, dramatics and military parades took place.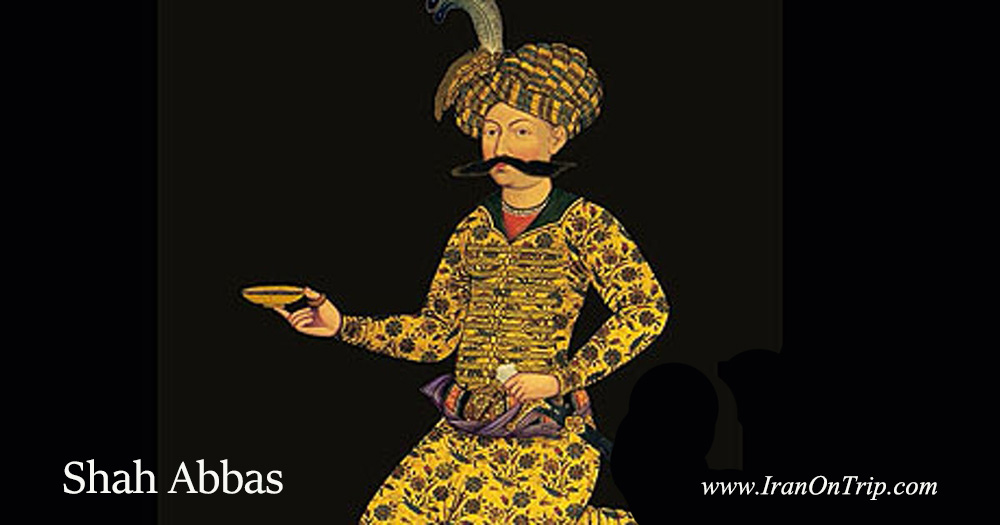 Built by Shah Abbas I the Great at the beginning of the 17th century, and bordered on all sides by monumental buildings linked by a series of two-storeyed arcades, the site is known for the Royal Mosque, the Mosque of Sheykh Lotfollah, the magnificent Portico of Qaysariyyeh and the 15th-century Timurid palace. They are an impressive testimony to the level of social and cultural life in Persia during the Safavid era."
Naghsh-e Jahan Square is surrounded by buildings from the Safavid era. The Shah Mosque is situated on the south side of this square. On the west side you can find Ali Qapu Palace. Sheikh Lotf Allah Mosque is situated on the eastern side of this square and the northern side opens into the Isfahan Grand Bazaar. Today, Namaaz-e Jom'eh (the Muslim Friday prayer) is held in this square in front of the Shah Mosque.
"Roger Seyouri", prominent British Iranologist who conducted extensive studies in history of Safavid era, about the square he wrote" Naghsh-e Jahan Square was a place for citizens to visit King. All around the square there was a river and along this river a row of plane tree donated shadow to passersby's.During the day time the square was filled with the tent of vendors and merchants stores who sold their goods mainly spices in warehouse around the Square.At night Naghsh-i Jahan square change into a gathering place for actors, jugglers, puppet showers , story tellers, and mystic.
Shah ( King) sometimes specially in Nowruz (New Year's Day) sat on gardens besides the Square to congratulate the beginning of new year. The Square was also a polo field. Other sports like shooting was hold there too.All tourists who visited Isfahan in previous centuries have the same pictures from Isfahan in their mind. Fortunately in spite of all unpleasant incidents, physical appearance of Square remained intact and it still shows off its beauty to the worlds.Naghsh-e Jahan owes its glory to four sites which surrounded it from north, south, east and west and each one individually indicates masterpiece of Iranian architecture.

Imam Mosque (Masjid-e Jam 'e Abbasi) or (Shah Mosque)

Shah Mosque is standing in south side of Naghsh-e Jahan square. Built during the Safavid period, an excellent example of Islamic Architecture in Persia (Iran).Its splendor is mainly because of the beauty of its seven-color mosaic tiles and valuable inscriptions. The splendid portal of the mosque measuring 27 meters high, crowned with two beautiful minarets being 42 meters in height, frames the front of the mosque which opens into Naqsh-e Jahan square.
On top of the entrance, among the attractive stalactites and above the turquoise lattice windows, there is a frame of seven-color mosaic tile shaped like a vase with two peacocks on both sides which is a very precious example of mosaic tiles.The inscription above the entrance being made of white mosaic tile on ultramarine background and is written in "Sols script" by Alireza Abbasi.The wooden door of the mosque, covered with layers of gold and silver, is ornamented with some poems written in "Nasta'liq Script".The overall entrance hall proves the mastery of the designer of the building. The master architect has designed two passageways being different in length on both sides of the hall to assimilate the axis of the mosque to the direction of kiblah which has an angle of 45 degrees, to cover the change of direction without losing the proportions..Read more
Sheikh Lotfollah mosque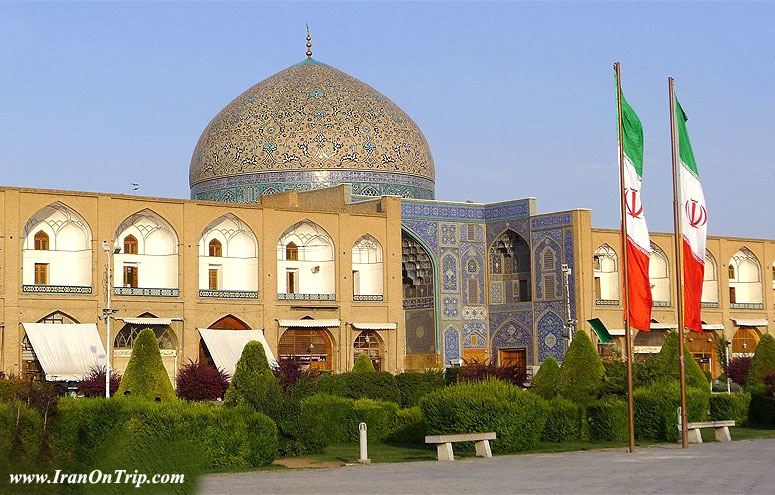 Sheikh Lotfollah mosque Situated on the eastern side of Naghsh-e Jahan Square, the mosque was constructed between 1602 to 1619 A.D. in Shah Abbas (I)'s era.It was a private praying place. The monument's architect was Mohammadreza Isfahani.One of famous American architect said: " it is difficult to say that the Mosque is a man made building."Sheikh Lotfollah Mosque in contrast with Imam Mosque is so small, because Shah Abbas constructed the mosque for one of his father in law, Sheikh Lutfullah. The mosque was named after Sheikh Lutfullah, a religious leader from Lebanon who was invited to Isfahan and was paid special attention by the Safavid king.Read more
Ali Qapu Palace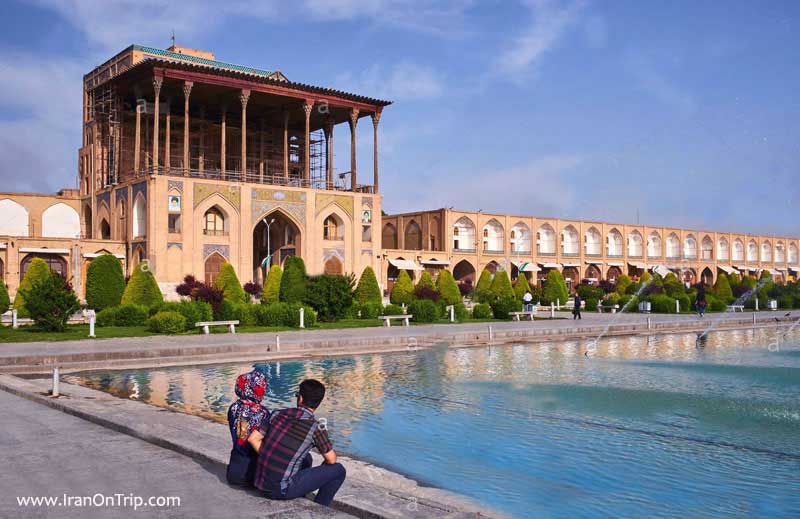 Ali Qapu Palace  was the celebrated seat of The Safavid capital in Isfahan. Ali Qapu (pronounced, ah-lee gah-pooh) is in effect but a pavilion that marks the entrance to the vast royal residential quarter of the Safavid Isfahan which stretched from the Maidan Naqhsh-e-Jahan to the Chahar Bagh Boulevard. This name was chosen by the Safavids to rival the Ottomans' celebrated name for their court: Bab-i Ali or the "Sublime Porte"). The building, another wonderful Safavid edifice, was built by decree of Shah Abbas the Great in the early seventeenth century.It was here that the great monarch used to entertain noble visitors, and foreign ambassadors. Shah Abbas, here for the first time celebrated the Nowruz (New Year's Day) of 1006 AH / 1597 A.D. A large and massive rectangular structure, the Ali Qapu is 48 meters high and has six floors, fronted with a wide terrace whose ceiling is inlaid and supported by wooden columns. Ali Qapu wall paintings by Reza Abbassi, the court painter of Shah Abbas I, and his pupils.The highly ornamented doors and windows of the palace have almost all been pillaged at times of social anarchy. Only one window on the third floor has escaped the ravages of time. On the sixth floor, the royal reception and banquets were held. The largest rooms are found on this floor. The stucco decoration of the banquet hall abounds in motif of various vessels and cups. From the upper galleries, the Safavid ruler watched polo games, maneuvers, and horse-racing below in the Naqhsh-e Jahan square.Read more
The Bazaar of Isfahan ( Qeysarieh bazaar)
The Bazaar of Isfahan ( Qeysarieh bazaar) is one of the oldest and largest bazaars of the Middle East, dating back to the 17th century A.D. The bazaar is a vaulted two kilometer street linking the old city with the new. The two kilometer bazaar is a vaulted street that links the old city, the Friday mosque and old maydan with Shah Abbas' new maydan.The entry at the Maydan-i Shah is marked by a large portal that mirrors in form the entrance portal of the Shah Mosque. The iwan of the bazaar portal is flanked by galleries and crowned with the representation of Sagittarius in mosaic tile.
The portal accesses the royal bazaar, the royal mint, and the royal caravansary, leading to the major artery of the bazaar. Mosques, hamams and khans lead off this main street, much of which is lit by circular openings cut into the brick vaults, shafts of light dotting the passage at certain times of day.It was like a big mall in Safavid era. One of European tourist who visited Bazaar 50 years after Shah Abbas death describe Bazzar as" This Bazzar is unique one that each merchant can boast about it and our exchanges in contrast with such bazzar are only some number of building and nothing more.
In fact Naghsh-e Jahan square is symbol of Iranian world and is big step in Iranian architecture which displays our culture and belief similarity. Mohammad Pirnia Iranian great architect called Naghsh-e Jajan a great symphony.Read more