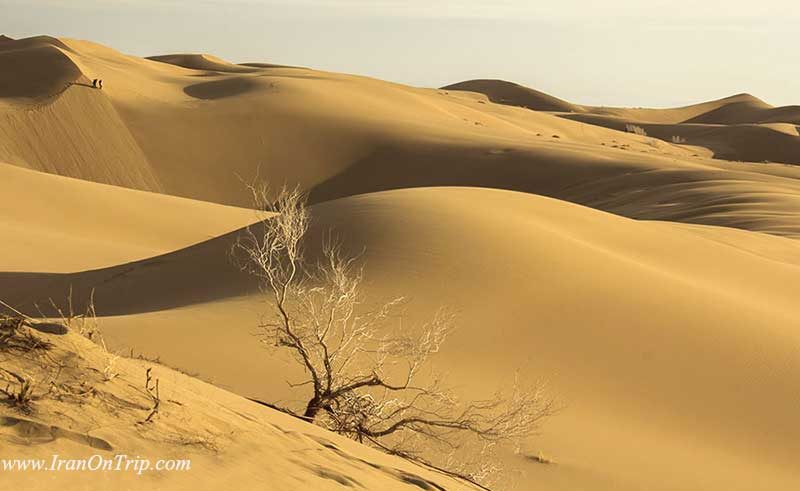 Maranjab is not much far from Tehran and also is close to Kashan and Abianeh two very Attractive places for tourists so its one of the most famous deserts in Iran and it really worths it.Maranjab belongs to AranvaBidgol town in the north of Esfahan Province. Salt Lake, Abbasi Carvanseray(Beside the Ancient Silk way), Sand Hills and many other attractions can be visited in Maranjab.The carvanseray is about 50 km from the town and is mostly the main camp for Maranjab explorers. Water and fuel plus some other services are available in here.
Maranjab Desert – be prepared and enjoy
Locationwise, it is not far from Kashan, only about 50km but the small and winding road will take up to 2 hours drive. We also have a 'desert guide' in addition to the national guide (who took us around in Iran). This additional guide is worth it because he will show not only the correct route but also the interesting places along the way to the Maranjab caravanserai, built in the 16th century.
The caravanserai is just a like a fort built in the desert, providing bare minimum shelter (western standard). I asked a silly question about types of room (twin or double) we want and got a cold shoulder from the tour guide saying that there is no beds in the room!!! Two blankets, one for sleeping on and one for covering plus one pillow will be provided. I don't think they got washed often, so be prepared and get something to cover these before using them to cover yourself. No shower facilities but there is water in the toilets located outside the main building (about 3 mins walk). Food is OK but best to get some fruits while in Kashan to make the meal more interesting. We bought a big water melon and it tasted more yummy then the one we tried before (mostly because it is in the desert).
If got a chance, don't miss the safari ride which just costs a fraction of the price charged elsewhere in the middleeast or western world. Its bumpy and could be scarely but definitely a memorable experience. We took the 1.5 hour ride option and visited the salt lake (dry), got drove up and down sand dunes and another hill plus seeing six camels (three big ones and three young ones). Very very nice experience.
Maranjab Desert
Located close to the ancient city of Kashan, Maranjab Desert is one of the most beautiful deserts in Iran whose golden sand dunes are truly mesmerizing. Deserts in Iran are fascinating not just because of their unforgettable scenery, but also because of their long, ancient, and enchanting history. There are two major reasons that make me recommend a tour to Maranjab Desert to all European tourists who have never been to a desert before. First, Maranjab Desert offers very convenient desert tours in terms of distance. Second, there is a very interesting historic sight in the middle of this desert.
Maranjab Desert' Location
When it comes to to taking desert tours in Iran, the distance of the trip is very important. Obviously, desert tours are far from luxury tours; there is the scorching sun, the bumpy road, and the wind that feels like a hairdryer blowing constantly into your face. Unlike the other famous deserts in Iran, Maranjab desert is not located very far from major oasis cities in the center of the country. From the city of Aran va Bidgol which is itself very close to Kashan, it'll take you only one hour to get to Maranjab Desert. As a matter of fact, it was Marnjab Desert's convenient location that made Iran Tours Group start running one-day desert tours. Their one day desert tours start from any desired hostel/hotel in Tehran and after visiting Maranjab Desert and its sights, and depending on the tourists' desire, the tourists will be either taken Kashan for the night, or they'll be taken back to Tehran to any desired hotel/hostel.
Maranjab Desert's Caravanserai
Being a vast empire, ancient Persia was not easy to cross. And so, there were convenient accommodation facilities on most of the major roads to accommodate the weary travelers. These accommodation facilities were called caravanserais and Maranjab Caravanserai_ built in the 16th century, was one of the important ones. It was important because it was located on the ancient Silk Road through which the empire's commerce prospered. Having been renovated in recent years, Maranjab Desert's Caravanserai is still used as an accommodation facility, but at this moment that this article is being written- June 2016, it does not offer a very convenient stay and so we recommend you to stay in Kashan for the night.