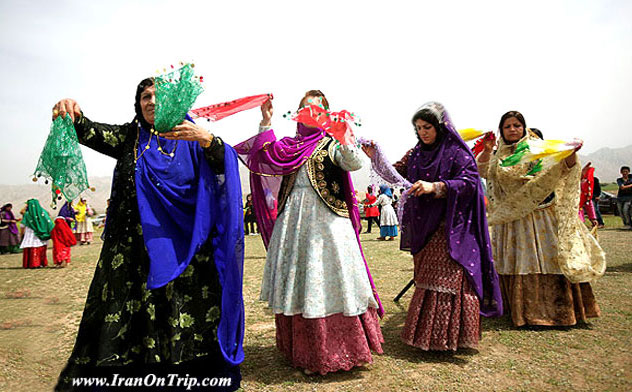 They dwell in the high grounds of Zard Kuh mountain (Zagros range to the west of Esfahan) extending to the south of Esfahan, and around Shahr-e Kurd, with winter quarters in Khuzestan, particularly the kinder plains around Dezful, Susa, and Ramhormoz. They are divided into two main groups, the Haft Lang and the Chahar Lang, subdivided in turn into several tribes and sub-tribes or tayefeh. Most Bakhtiaris speak Persian or a Luri dialect, although part of the populations, concentrated in the towns and villages in the south of Khuzestan province, speak Arabic. Their clothing, with trousers extraordinarily wide, round hat and short tunic, is reminiscent of the Arsasid (Parthian) period, 200 BC-280 AD.
Introduction
The Lur & Bakhtiyari people of Iran are living in the Central and South-western part of Iran.  The city of Isfahan was their capital for a long time, but not any more.  They had key and leading roles in the Constitutional Revolution.  Dr Shapour Bakhtiar, last prime minister of the Shah of Iran, was also from this minority (2).
Geographical Importance
The minority of Lur & Bakhtiyari live in the West of Iran; mainly in Provinces of Lorestan, Chahar-mahale Bakhtiary, Northern part of Khuzestan, southern part of Hamadan, southern edge of Markazi Province, Some regions of Ilam, Kohgiloye va Boirahmady, and partly in Isfahan. From the geographical point of view their land is in North-eastern part of Zagross Mountains in the west of Iran (Ahwazi Arabs are in South-western part of Zagross Mountains).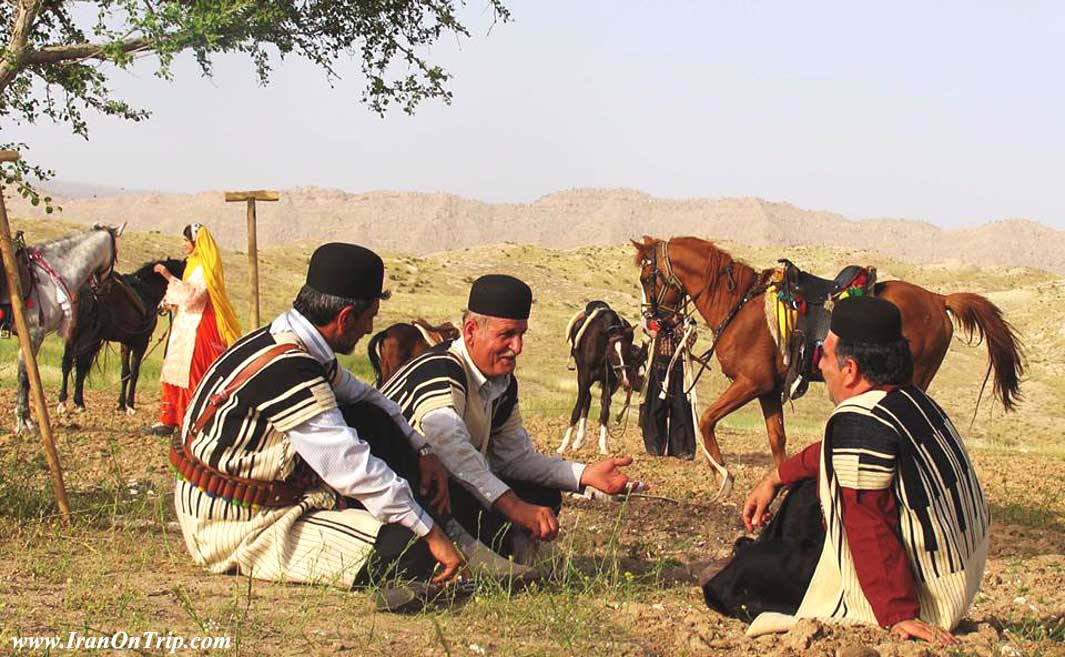 Lur & Bakhtiyari speakers' inhabitant Provinces and cities include:
Khuzestan Province; Shushtar, Lali, Behbehan, Ramhormoz, Andimeshk, Izeh, Baqmalek, Masjed Soleyman, Dehdiz.
Lurestan Province; Khoramabad, Brujerd, Aligodarz, Azna, Dorud, Kohdasht, Poledokhtar.
Chahar-mahale Bakhtiyari Province; Ardal, Brojen, Farsan, Shar-e Kord, Kohrang, Naghan, Jaeman.
Ilam Province; Ilam, Mehran, Shirvan, Dehloran.
Kohgiloye va Boirahmady Province; Bahmayi, Gachsaran, Yasuj, Dehdasht.
Hamadan Province; Malayer, Nahavand, Toyserkan, Zand & Joykar.
Isfahan Province; Fereydan regions, Daran, Freydon-Shahr, Mogoyi regions, Zalghi regions.
Fars Province; Mamasani regions.
Bushehr Province; Dashtistan, Tangistan, Liravi, Kangan, Dashti.
Historical background
They have migrated to this region 4000 years ago and established the Ilamite kingdom, which is known as one of the first human civilizations.  They also established the Zandiya dynasty in Iran which brought prosperity and peace for a while.  The Lur & Bakhtiyari have played significant roles in Iran in the last five hundred years (22).
Population
There are approximately 6.5 million Lur & Bakhtiyari people in Iran, who live in the above mentioned dominated provinces plus neighbouring provinces. About 3 to 4% of Tehran's population is Lur & Bakhtiyaris (7, Figure 3 & 4, Graph 1&2, Table 1).
Geopolitical Importance:
The main roads that connect South of Iran to the North and Centre of Iran go through Lur & Bakhtiyari's land. Two main rivers of Zayande-Rood and Karoon originate from Zard-Kuh in Bakhtiary.
Natural resources
The main natural resources are: oil and gas. The first oil contract was signed between William Knocks Darcy on behalf of Britain with Bakhtiary leaders. Oil was discovered in Masjed Soleiman (Naftoon). A large portion of Iranian oil is extracted from this part but the people are among the poorest in the country. The main pipelines go through this region too.
Political situation
Through suppression and dictatorship of the central governments, they have been deprived of their basic human needs and rights. Although they have huge natural resources and great human potentials to grow, but their people live under poverty and in indignity. They want their Language to be taught in schools