Developed public transportation makes it easy and comfortable to get around the city. Tehran has an extensive bus system, including double-deckers. Tickets are bought in advance at kiosks.public transportation is very much cheap in Tehran. For example some prices as (the prices are converted to US $):One way Taxi while other passengers might get on that car also : (depending on the way, 0.11 $ to 1 $
Taxi which you can take for just yourself or call by telephone : 1.5 $ to 5 $.
There are no direct flights from North America or Australia, but there are flights direct from numerous European, African and Asian cities as well as cities in the Middle East. Iran Air, the national carrier of Iran, flies to many destinations such as London (Heathrow), Amsterdam, Vienna, Istanbul and Tokyo. You can also fly direct from London (Heathrow) with BMI (previously known as British Midland). Alternatively, you can enter via Dubai and then take Emirates or Air Arabia to Tehran. Tehran's Mehrabad airport (IATA: THR ICAO: OIII) is the old pre-revolution airport and has been partially replaced with the new Imam Khomeini International Airport (IATA: IKA ICAO: OIIE). Recently all International flights are designated to Imam Khomeini and Mehrabad is only used for regional and cargo flights. The old airport is located relatively close to the city centre and the abundant taxis available are definitely the best way to get into Tehran. There is a booth organizing taxis for you right outside the arrivals hall.
Imam Khomeini Airport
Imam Khomeini Airport is a significant improvement over Mehrabad and it is still only in International use. Be warned that it can take up to an hour and a half to get to the airport in bad traffic but if you book your departure early in the morning it can be much faster. Taxis are cheap and plentiful. A taxi to any destination in Tehran costs from 200,000 Rials for a local Samand car, or a few dollars more for Toyota Camry. You can also bargain with taxis who take passengers from Tehran to the Imam Khomeini airport because they usually have to go back to Tehran empty. You may be able to hire one to get to Tehran destinations such as Azadi square or the Metro Station for 20,000-30,000 rials. Bus services have recently been added from Mehrabad Terminal 5, and Behesh-e-Zahra (Haram-e-Motahhar) Metro Station to Imam Khomeini Airport. You may have to ask a few people about the service as it is relatively new and not well known yet.Despite the warnings in some travel guides, there is no exit fee for foreign travelers, neither in Mehrabad nor in Imam Khomeini Airport. The exit fee applies to foreign travellers only when leaving Iran on land or by sea.
By train

Tehran has rail connections to other cities in Iran and neighboring countries. If traveling within Iran, train tickets should be bought outside the station, in travel agencies or through internet from Raja passenger train company that is the passenger daughter company of Islamic Republic of Iran Railways (RAI).
• There is a three-day train service departing from Istanbul to Tehran every Wednesday at 11.55PM, costing 96.20 Turkish lira (August 2010). You change trains on Friday at Lake Van which requires a four hour ferry ride to get across. Both the Turkish and Iranian trains are comfortable and clean. Waggon restaurants are rather cheap. Arrival on Saturday at 6.45PM (but expect up to 10 hours delay…).
•There is a three-day train from Damascus, crossing Turkey via Lake Van.
• Several trains a day from Mashhad, including night trains.
•There are at least one train each day to Isfahan, Tabriz, Kerman, Yazd, Sari, Gorgan, Ahvaz and Bandar Abbas in Iran.
By car
Traffic is very congested but has improved with the completion of several new tunnels and highways (referred to as Bozorgrah or Otoban in Persian language) across the city. You can drive in from Turkey fairly easily as well as from the Southern parts of Iran. Driving is often dangerous and seat belts should be worn at all times.
By bus
Almost every city and far-flung village in Iran has bus services to Tehran, as evidenced by the hundreds of buses that pour in and out of the capital each day. Most buses arrive to, or depart from one of four major bus terminals:
•The Western bus terminal (Terminal-e-gharb) is the biggest, busiest and best equipped of Tehran's terminals. Most international buses, as well as those heading to the Caspian Sea region and destinations west of Tehran originate and terminate here. The terminal is a ten minute walk north-west from Azadi Square, and a few minutes walk west from the Tehran (Sadaghieh) metro station.
•The Eastern bus terminal (Terminal-e-shargh), seven km north-west of Emam Hossein square, handles buses to/from Khorasan province, as well a small number of services to the north.
•The Southern bus terminal (Terminal-e-jonoob) is well equipped and handles buses head to and from destinations south of Tehran. It is 2 km east of Tehran's main train station and easily accessible via the dedicated Terminal-e-Jonoob metro stop.
•The Beihaghi bus terminal (Terminal-e-beihaghi) is located beside Arzhantin Square, around 1.5 km south-west of the Mossallah metro stop. (Frequent shared taxis to/from the metro should be no more than 3,000 rials). The station has services to /from most major destinations in Iran including Mashhad, Esfahan, Rasht, Shiraz, Tabriz and Yazd.
Get around
Getting around traffic-clogged, sprawling Tehran is a true test of patience. While taxis are your best bet, they are pricier here than the rest of the country. A large local bus network will also take you almost anywhere you need to go, as long you can make sense of the routes and Persian line numbers. The true star of Tehran's transport system however, is the brand new metro.
By bus

Tehran has an expansive but confusing bus network. Some require prepaid contactless card (min 5000 rials), which can be bought from booths beside the bus stops and Metro Stations used when you get off the bus, and some should be paid by cash (ranging from 1,000-4,000 rials). Note that the buses are partitioned in two sections, men-only (the front section) and women-only(the back section).
Note that in the BRT lines, the women-only section is at the front. Also, the fee is paid on the station, using the prepaid contactless card (shared with Metro), or paying to the guard.
Since bus numbers, route descriptions and other information is in Persian, your best bet is to look confused at a bus terminal; a local will surely stop to help. Each bus line has a certain and almost invariable path but only people know exactly which bus stations exist for a certain road. You shouldn't expect a map or guides even in Persian showing the bus network or bus stations. Even asking the bus driver wouldn't be a great help for you to find your way either. If you get in a bus and looking for a certain station to alight, ask one to help you – you will find many people wish to help you to find your way, most of the
BRT (Bus Rapid Transportation)
The BRT buses are colored in red. BRTs has special lines and travels very quickly from Azadi square (west of Tehran) directly to the East (Terminal-e-Shargh). Railway square (South of Tehran) directly to the North (Tajrish square). Azadi square to free university(northwest). Azadi square to south Terminal and parkway bridge(north of tehran) to jomhuri square. Costs between 1,000-3,000 rials. In high-traffic hours (7AM-9AM & 4PM-8PM) it is the best way to traveling . BRT has too many stations near main streets. Although you may not find an empty seat on the bus because of the crowds, people give their place to you if they know you are a tourist. The women's and men's seats and queues are separate.
By metro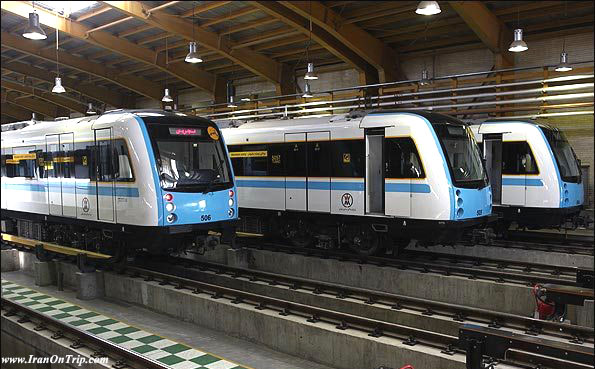 Tehran's new metro system is comprised of three lines that will whisk you quickly from one end of the city to the other without having to deal with the noise, pollution and chaos of Tehrani traffic. However, many residents decided to leave their cars and commute by metro, so expect huge crowds during rush hours.
There are four lines available (numbered strangely 1, 2, 4 and 5) but the two most useful are lines 1 (north to south- from northern most Tajrish Station to Kahrizak Station) and 2 (east to west) which connect at the central Imam Khomeini station. All stations have signs in both Persian and English. Trains run every 10 minutes or less on rush hours (15 minutes on Fridays and holidays) from around 5:30AM-11PM every day. line4(yellow line) recently extended eastward to Kolaahduz station and westward to Eram-e-sabz Station. It's really crowd since it is connecting some of most important points like University of Tehran in Enqelab Sq. and an interconnection to line5 (green); line5 is going to Karaj, which is a 3 million population suburb! line3 (light blue) is constructed and under the test and would start to work from Azadegan to Beheshti before march 2014.
Tickets are valid for 1 or 2 trips (including change of lines) and cost 3,500 or 5,500 rials respectively. There are ticket booths at every station. You can also buy a contactless fare card which is the best option if you are going to use metro a lot, or simply want to have less hassle by paying 30,000 rials for a card and use it on both metro and most of city buses (note that if you use this card, you usually pay less than any other tickets, since they charge for the longest trip on the network), to charge minimum cost in metro with this chargeable tickets you should use the card in exit station. There are three dedicated women-only carriages at two end of the train, one and half in each side. Women can anyway choose to travel aboard the other carriages.
By taxi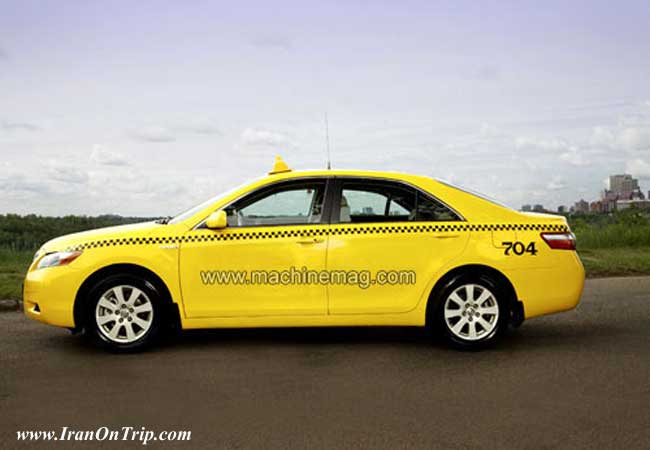 As with the rest of the country private and shared taxis are abound in Tehran, although you may find flagging down a shared taxi more difficult amid the traffic and chaos, while private taxis are more expensive than in the smaller cities. See the Get Around information on Iran for details on flagging a taxi. If you want to get around by shared taxi, your best bet is to hop from square to square, as drivers will be reluctant to pick you up if your shouted destination deviates too far from their route. In each square you will find certain places where the private taxis are lined up in a queue and drivers call for passengers to a destination. (mostly happening during the times when the number of waiting taxis exceeds the number of passengers). In this case, they would wait until the car gets full of passengers (mostly one people at front and 3 people at back, excluding the driver). Otherwise the people have to line up in a queue waiting for the taxis to come. This is the case during rush hours (approximately 7AM-8AM and 5PM-8PM). All these depend upon finding their regular station in the square. You can also ask them to alight sooner than your destination wherever you like but you have to pay their total fee up to destination. The cost of such a ride from Azadi square to Vanak Square is around 20,000 rails (2000 Tomans)
(75 cent) for each person. Most drivers are very poor at English though.
Motorcycle taxis are a Tehran specialty and offer a way to weave quickly through the city's traffic-clogged streets. You'll see plenty of these drivers standing at the side of the road calling "motor" at all who pass by. Keep in mind motor taxi operators can seem even more suicidal than the average Tehran driver when driving. Agree on a price before you take off and expect to pay slightly less than chartering a private taxi.
Airport taxis can be difficult to find and even the most expensive hotels provide poor quality vehicles. Airport Seiro Safar Co. has a fleet of yellow-greenish cars (Toyota Camry, Samand) which are both new and comfortable. You can call or email them in advance of your trip to/from the airport and reduce the discomfort and inconvenience that the long trek out to the airport can cause. The fee is the same for any source/destination in Tehran to/from Imam Khoemini Aiport varies from 250,000-400,000 rials depending on the car; Samand the least expensive and Camry the most expensive). In order to prevent any request for more than the official fee, tell the driver that you need a receipt before getting on the car.