Talezang waterfall (Shevi waterfall)
Location: Between Dorod (Lorestan Province) and Dezfol (Khozestan Province)
One of the most beautiful waterfalls in Iran, Dezful Shevi, is located in the southwestern city of Dezful in Khuzestan province.
Shevi is also 100 meters high and 70 meters wide. It is 100 km from Dezful near Sallen Mountain. A small village in the vicinity of this waterfall is also named Shevi.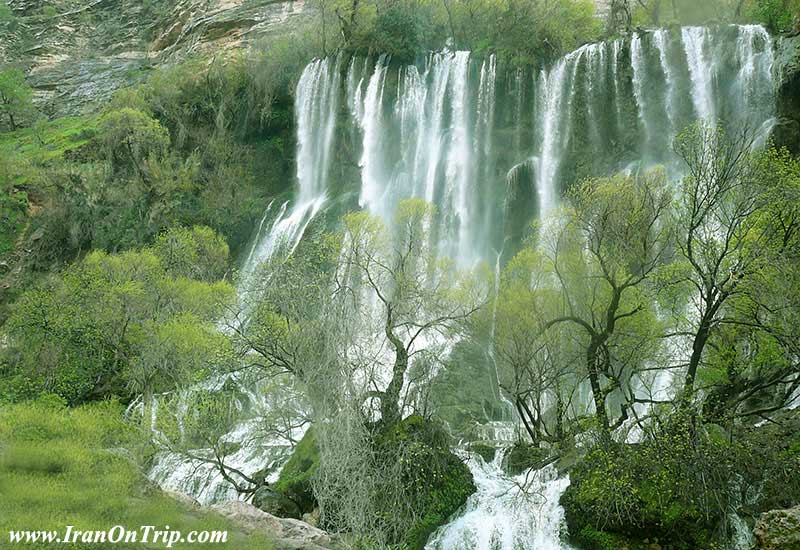 Height of waterfall: About 60-70 meter
Walking path length: About 20 km (12 ml) (10 km in go and also 10 in back)
Days of trip: 4-5 Days from Tehran to Tehran (Without heavy traffic you need 8 hr driving from Tehran to Dorod. 4-6 hr from dorod to Tale Zang station. Depends on your speed ,1-2 days in going and getting back to the waterfall. and 12-14 hr on train and driving back to Tehran)
Attention: In holidays there is heavy traffic in all roads around Tehran.
Best time to visit: Feb and April
Daily time visit: No limit, but middle of the day maybe hot
Difficulty level: Moderately difficult (1-2 days hiking, night camping with no facilities)
Requirements: Guide or GPS track, water, food, warm and waterproof clothes and tent, waterproof shoes, satellite phone, headlamp
Legal permission need: No
One of the wonders in the north of Dezful city is Shevy waterfall, 85 meters high and 70 meters wide, which is the largest waterfall in the Middle East and the world largest fountain waterfall. The pristine nature along with many spectacular waterfalls around it have made investment possible in this area
Overall risk
Animal risk: There are a few number of wild animals like bear, wolf and leopard in this jungle. But no human attack has been reported.
Lost risk: Yes
Rescue: Yes, you can call 115 but rescue teams need a long time to find you because there is no road there.
GSM Mobile Antenna: No
Hotel: No hotel in the path
Village: Yes, there is a small village in middle of the path
Shop: No shop in the path
Gasoline: No gasoline in the path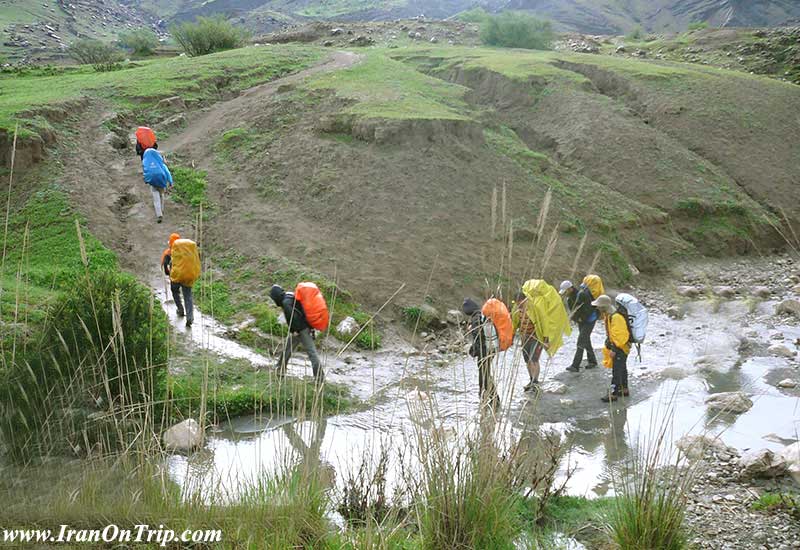 How to get there:
1- Go to Baihaghi or south terminal of buses in Tehran (more info)
2- Take a bus ticket to Dorood (Also you can take a train ticket from Tehran to Dorood)
3- Take a ticket of local train (Dorod to Dezful)
4- Get off trian in Tale Zang station
5- Start hiking, see the waterfall and get back to the station
6- Get on train to dorood
7- Get a bus to Tehran
Nearest airport: No airport less than 100 km (Nearest is Shahre kord airbport)
Nearest train station: Dorood. Tale Zang
Waterfalls of Iran – Shevi waterfall in Khozestan Province –  Shevi waterfall in Dezful – Dezful shevi waterfall – The Most Famous Waterfalls of Iran – The Best Famous Waterfalls of Iran –  The  Famous Waterfalls of Iran – The Beautiful Waterfalls of Iran